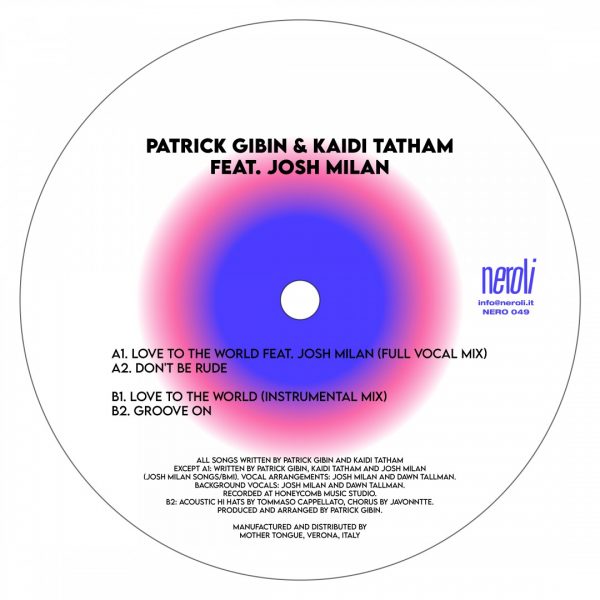 Patrick Gibin & Kaidi Tatham feat. Josh Milan
Love To The World
Neroli
€12,00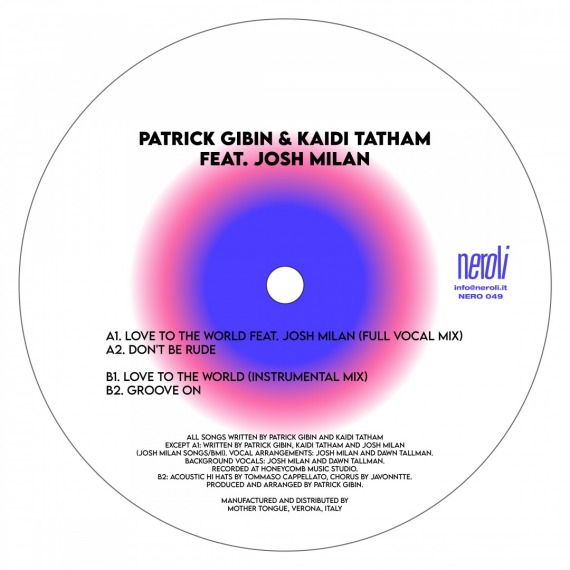 Love To The World (Vocal)
Patrick Gibin & Kaidi Tatham ft. Josh Milan
▸
Don't Be Rude
Patrick Gibin & Kaidi Tatham
▸
Love To The World (instrumental)
Patrick Gibin & Kaidi Tatham
▸
Groove On
Patrick Gibin & Kaidi Tatham
▸
Never a dull moment on Neroli: after a string of releases from the likes of Fred P, DEGO, Patrice Scott, Chaos in the CBD and Trinidadian Deep it's now the turn of PATRICK GIBIN together with KAIDI TATHAM.
The duo has been already responsible for some heat on Patrick's own Blend It label, and here they are teaming up once again for a whole EP. This time they enroll New Jersey majesty JOSH MILAN [of Blaze/Element of Life fame] on vocal duty [with extra the help of Dawn Tallman on backing vocals] and they turn the song 'Love To The World' into a modern day Classic…..Anthem Alert!
But there's more evidence of brilliance from Gibin and Tatham with the boogie 'Groove on' and JazzFunk House joint 'Don't Be Rude' where mr keyboard Kaidi lets loose on Bass and Guitar!
DOWNLOAD ASSETS